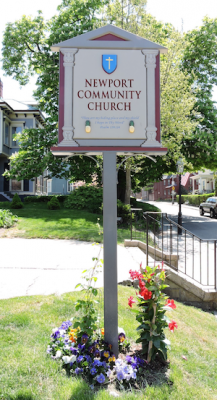 Newport Community Church was birthed out of a home Bible study founded by a small group of family and friends living on Aquidneck Island who desired a local Christian church committed to teaching God's Word and prayer. Our first church service took place on June 4, 2000 in the former Swinburne School. In 2010, the elders and members agreed to purchase the property at 100 Touro Street, realizing their longstanding objective: To establish a "bricks and mortar" identity recognizable to the community and suitable for revealing the beauty of Jesus Christ.
The government of Newport Community Church is elder-led, Presbyterian in form, and is comprised of a three-member board. The elders uphold a reformed position on salvation and a post-millennial eschatology.  Ministry heads lead specific areas of discipleship, and meet regularly for corporate prayer, direction, and aid. The church supports 13 missions, foreign and domestic, through redistributing 10 percent of its weekly offerings.
The logo of Newport Community Church is drawn from Psalm 119:114 and provides a visual reminder that God offers Himself as a shield and His Word as hope for present and future difficulties. The pineapples, associated with the history and culture of Newport, here represent the divine welcome and fellowship available to all through repentant faith in God's Son, Jesus Christ.